Upcoming & Completed Projects
Want to know what's in the works of OAMM Productions?
A Moment of Darkness
Janeane is a young vivacious ER doctor who has a fascination with blood play and the fantasy world of vampires. When she is unknowingly bitten by one, she begins her dark dissent into blood, horror, & destruction. In a desperate final attempt what path will she take just to wake up from her terrible nightmare?
Horror/Drama, 30 min.
Status: Completed
The Visitor
Ever wonder what goes on at night in the backyard, when the dog keeps barking and is terrifed of something. Samantha goes out one night to investigate some strange noises & what is making her dog so frantic. What she finds is something she won't soon forget.
Horror, Short 6 min.
Status: Completed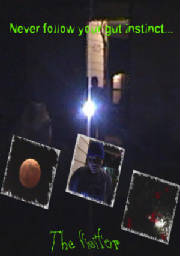 The Search For Emily Anderson
A small documentary film crew follows an even smaller group of ghost hunters who are looking for the ghost of a young girl who died in an abandoned building.
(A project for the SA 48 Hr. Film Experience)
Mocumentary/Comedy/Drama, Short 7 min. 56 sec.
Status: Completed
The Journal
When a woman gets settled into her new home, she finds a journal hidden underneath a broken floor board. Once she begins to read it, the journal reveals the horrible truth of what happened to the previous tennant.
(A project for the M.A.F.I.A competition)
Thriller, Short 2 min. 47 sec.
Status: Completed
Out of Order
April has what one would call a "sensitive stomach". Any little thing could off set the balance of her out of control bowels. When set up on a blind date, April gets nervous, and does her best to prevent the possibility of overly loose stool. When she gets lost trying to find the meeting place, finds out the restaurant her date chose is a Mexican restaurant everything starts to come apart for April and her bowels. Add to that a late date, only one working restroom after a hefty Mexican dinner, and that equals up to one disastrous first date!
Comedy, Short
Status: Pre-Production